24/09/2020
By 2020 Tricia Thomas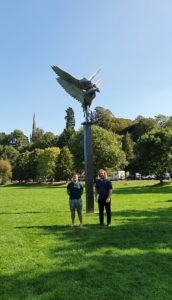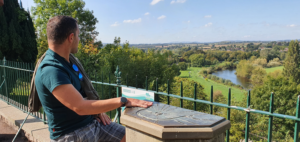 Last week, on a beautifully sunny day and by kind invitation of Mayor Cllr Daniel Lister @CllrDLister, I visited Ross-on-Wye in the south of the county.
After meeting Rachel and Anna, Daniel and I left the Council Chambers for the superb Market House, built in circa 1650. It houses the Heritage Centre and is still regularly used for markets but on that day had tables and chairs set out, providing a wonderful vantage point of the busy High Street.
I met Cllr John Winder who is Deputy Mayor, and representatives from 2 youth groups. Sue Wilding runs The Basement Youth Trust
BYT in Ross on Wye which is an open-access youth group for 11 years + with free drop-in sessions, usually 3 evenings a week which are run by experienced Youth Workers. This is a important service to the young people of Ross on Wye and surrounding area.
Next I met Paul Flitney from Ross Juniors Football Club - Herefordshire which is a progressive sports club catering for over 400 children and young people aged 5-17 years. And big news - U14 player Ruby Wood has been accepted into the Aston Villa Academy – what an achievement!
Of course, Covid-19 has impacted events and this came after floods earlier in the year that caused havoc with the clubs facilities. This is an organisation which provides such valuable services to so many and needs everyone's support to overcome the challenges it is facing.  We visited The Prospect, gardens created by John Kyrle- just look at the views! Later we walked along The Rope Walk, with it's newly planted avenue of trees, and admired sculptures by Herefordshire's very own Walenty Pytel.
A light lunch at No:3 in the town finished off a brilliant visit for me - Many thanks Cllr Daniel List and Cllr john Winder.